Welcome to Panther Athletics!
View Team Schedules, Scores, and Rosters
From college bound scholar-athletes to those who want to try a sport for the first time, San Domenico's athletic mission is to provide every student the opportunity to explore, grow, and excel, while learning that purpose is often found as part of a team with a common goal. At SD, we see the playing field as an extension of the classroom, where character, team work, and integrity are keys to success today - and for the rest of your life.
2021 Season Dates
Season 1: February 8 - March 20
Cross Country B&G
Golf B&G
Tennis G
Mountain Biking B&G (Feb 8 - May 20)
Season 2: March 22- April 30
Badminton B&G
Baseball B
Lacrosse G
Tennis B
Track & Field B&G
Volleyball G
Season 3: May 3 - June 4
Basketball B&G
Swimming B&G
Soccer B&G
Athletics schedules are subject to change. Please check back soon.
This week our Tennis and Cross Country teams competed in the first athletic competitions since the pandemic and ensuing shut downs began almost a year ago.
Read More

about Panther Athletics Update
SD students took to the hills to move gravel, build bridges, and cut trails in the hills surrounding our campus.
Read More

about Cross Country and Mountain Bike Team Volunteers Help Improve Local Trails
Prep2Prep gives a well-deserved shout out to the winning Panther Basketball team's winning season.
Read More

about SD Panthers Basketball Season Highlighted in Prep2Prep Article
From the Desk of the Athletic Director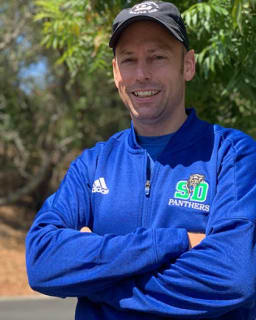 Dear San Domenico Community,
We hope that you and your families are doing well in these unprecedented times for education and athletics. We are excited for the safe return to campus and to see our students again learning, socializing, and training.
San Domenico Athletics were impacted dramatically due to the COVID-19 pandemic. We feel that the return to individual and team workouts is essential to the physical and emotional well-being of our student athletes. Our plan for returning to athletics will put the health and safety of our athletes first.
The plan below is to offer athletic options to our Upper School athletes to help prepare them for the fall season of sports beginning December 7, 2020. Adjustments may occur if circumstances change with the COVID-19 virus, any directives by the Governor of California, any health directives mandated by the CDC, Marin Health and Human Services, or any decision made by the Head of School at San Domenico in conjunction with the COVID-19 Steering Committee.
Our schedule of fall athletic options can be found here with specific information from each coach.
Families will need to review, complete and sign the following information:
On behalf of all of our coaches, we look forward to seeing you soon!

Mark Churchill
Director of Athletics
Facilities and Coaches
Of our 23 COACHES, all have played at the collegiate level, several have played professionally, and three have been inducted into Hall of Fame organizations. Our on-campus athletic facilities include a fitness center, year-round aquatic pool, state-of-the-art gymnasium, six tennis courts, an equestrian center, and practice fields. Year round strength and conditioning with a dedicated trainer, and concussion testing for all athletes are standard parts of our program and just one more way we support our Panther athletes.
Interested in learning more?