Welcome to Panther Athletics!
View Team Schedules, Scores, and Rosters
From the Desk of the Athletic Director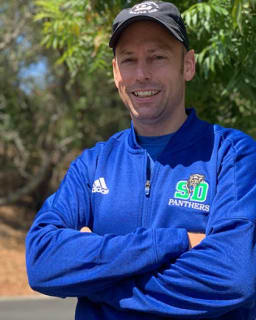 Dear San Domenico Community,
Welcome to San Domenico Athletics, home of the 2020 NorCal Division 5 Men's Basketball Champions. Our Panthers continue to succeed in all of our programs, and while success in athletics is often a direct correlation with winning, it is our belief at SD that the value of athletics extends far beyond the playing field in every participant's life. What our athletes gain from competition is not just a chance at winning a championship, but an experience that shapes their sense of self and community.
At SD, our goal is to provide every student the opportunity to participate on a team to enhance personal growth, self-discipline, and to provide positive group participation. However, student athletes also need to understand that being a member of a team is not a right, but a privilege. We want to teach students the fundamentals of every sport that will provide them the courage to compete and the intellect to obtain successful outcomes. Since participation is voluntary, any student who desires to compete must be prepared to follow all rules and regulations governing athletics.
San Domenico is a recognized member of the Positive Coaching Alliance and our coaches are committed to the Double-Goal philosophy: "Winning is important, but teaching life lessons through athletics is most important." Student athletes are thus supported to meet the challenges of a rigorous academic curriculum with balance, foresight, and dedication to holistic success.
Go Panthers!

Mark Churchill
Director of Athletics
Basketball season is in high gear - our Women's team is currently ranked 8th in the state for Division 5 - while Men's Varsity Soccer notched the season's first league victory this week. Plus, catch all home Varsity hoops—live streaming with play-by-play calls—at sandomenico.org/livesports. GO PANTHERS!
Read More

about PANTHER NEWS: From the Desk of the Athletic Director
Women's Varsity Basketball sharpshooter Lily Reeser shares her team's early success.
Read More

about PANTHER SPOTLIGHT: Lily Reeser Named to All-Tournament Team
With a robust lineup of holiday tournaments, Panther men and women secure impressive wins and awards.
Read More

about PANTHER SPOTLIGHT: Varsity Basketball Busy over Break
Facilities and Coaches
All of our coaches at SD have played at the collegiate level, several have played professionally, and some have been inducted into Hall of Fame organizations. Our on-campus athletic facilities include a fitness center, year-round aquatic pool, state-of-the-art gymnasium, six tennis courts, and practice fields. From year-round strength and conditioning with a dedicated trainer, to safety-minded concussion testing protocols, SD Athletics is committed to the whole of our student athletes, enabling their best performance on and off the playing field.
Interested in learning more?