Welcome to Panther Athletics!
View Team Schedules, Scores, and Rosters
From college bound scholar-athletes to those who want to try a sport for the first time, San Domenico's athletic mission is to provide every student the opportunity to explore, grow, and excel, while learning that purpose is often found as part of a team with a common goal. At SD, we see the playing field as an extension of the classroom, where character, team work, and integrity are keys to success today - and for the rest of your life.
October 27th, 2021
Join us at Kesterson Field
Varsity plays at 4:00 pm,
Junior Varsity after
Hamburgers & Hot Dogs for Sale!
Read More

about Flag Football Tailgate Party
Our six Women's Varsity Volleyball seniors enjoyed the recognition - and flowers - at their final home game of the season!
Read More

about Women's Varsity Volleyball: Senior Night
Emma Keith-Brown and Luka Vujicic turned in outstanding athletic performances in competitions this week in Swimming and Soccer. Go Panthers!
Read More

about Panthers of the Week: Luka Vujicic and Emma Keith-Brown
From the Desk of the Athletic Director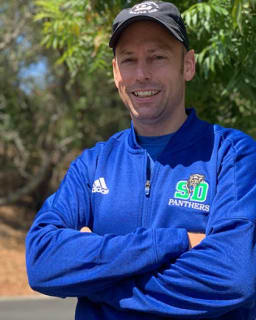 Dear San Domenico Community,
Last week as I left campus from our Track and Field practice, athletes were throwing the shot put and practicing getting over their hurdles. The Mountain Bike team was finishing their ride, as our Badminton team was inside the gym competing against Convent/Stuart Hall. The Men's Tennis team was on the outdoor courts, practicing their serves. I arrived at Alberts Park to watch our young baseball team take on Lick Wilmerding in an exciting match-up.
Spring is certainly here, with warm weather, budding flowers, and, most importantly, sports. While things are not necessarily back to normal, this particular day felt like we were back on track. Our athletes are able to safely compete again. They are not playing for a league championship this year, but they are playing with the same heart and soul that they would during a normal year, and they are enjoying this more because they know what they have missed. They are playing for each other and the chance to be outside doing what they love to do.
We are preparing to enter the third season of sports this year, and we want to share what sports are offered, along with the practice times and coaches. All seasons officially start on May 3, but some sports will be having open practices before that date. Please reach out to your coach about any pre- season open workouts between now and May 3.
Basketball
Women's Varsity - Mike Fulton - Monday - Friday at 5:00-6:30 pm in the Gym
Men's Varsity - Mike Fulton - Monday - Friday at 6:30 - 8:00 pm in the Gym
Men's JV - Buck Chavez - Tuesday - Friday 5:15-6:30 pm on the sport-court
Men's Freshman - Tuesday - Friday 3:30 - 5:00 pm on the sport-court
Volleyball
Women's Varsity - Alison West - Monday - Friday at 3:30 - 5:00 pm in the Gym
Women's JV - Kaily Walker - Monday - Friday at 3:30 - 5:00 pm in the Gym
Soccer
Women's Varsity - Fiona O'Sullivan - Monday - Friday 3:30 - 5:00 pm on Kesterson Field
Men's Varsity - Derek Howard - Monday - Friday 3:30 - 5:00 pm on Kesterson Field
Swimming
Men's and Women's Varsity - Mark Anderson - Wednesday and Friday 1:30-3:00 pm SH Pool, Tuesday and Thursday at 7:00-8:00 am
Go Panthers!

Mark Churchill
Director of Athletics
Facilities and Coaches
Of our 23 COACHES, all have played at the collegiate level, several have played professionally, and three have been inducted into Hall of Fame organizations. Our on-campus athletic facilities include a fitness center, year-round aquatic pool, state-of-the-art gymnasium, six tennis courts, an equestrian center, and practice fields. Year round strength and conditioning with a dedicated trainer, and concussion testing for all athletes are standard parts of our program and just one more way we support our Panther athletes.
Interested in learning more?